I have been doing embroidery on and off for about two years now. When I started, there were a lot of frustrating moments that could have been avoided had I known a few basic things.  
(For those experienced embroiders out there readings this, please remember that the advice I'm about to give is for those who haven't even picked up a needle yet.)
So, here we go.  
My Tips for Embroidery begginers
Needle Quality Matters – Using a bad quality needle will not only damage your fabric, but your stitches are not going to be the best. You want a needle with a very sharp point, obviously, and a firm body (some are very bendy and flexible … You don't want them).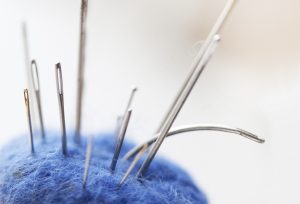 Floss 101 – Honestly when it comes to floss, I could write a whole post about it … but I will get as much into this section as I can. Firstly, floss comes made up of 6 strands but you're going to want to split it; the more strands you use, the thicker the stitch. Secondly, going in and out of fabric can cause your floss to fray and if that happens, I suggest throwing those strands away. Frayed floss is going to make your stitch look fuzzy; this can be avoided with good quality floss but I don't recommend investing right away. Finally, don't cut your strands too long or your floss can become knotted.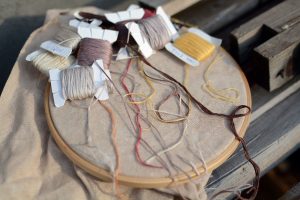 Order Pre-designed Patterns For Beginners – Do not bother trying to design your own pattern right away, even if you're an incredible artist, because the drawing isn't the hard part; It's knowing what kind of stitches suit what pattern and actually learning how to do the stitches. The pre-designed patterns come with everything you need (needle, floss, hoop, etc) and include a sheet teaching you how to do each stitch. They really are the best teaching tool because you're not just learning how to do the stitches, but also learning what colours go well together and how you feel most comfortable using the tools.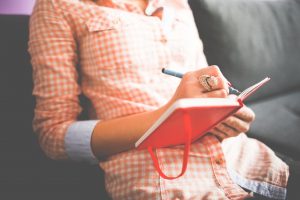 These are two of my personal favourites: Kit 1 and Kit 2
Now You're ready to start!
Those are the main things that I think you guys need to know before you begin but I do intend to write more embroidery content for those further along. Please comment below if you think I have left anything out or whether you have found this useful!  
Until next time you can click here to check out my last post.