In a previous post, Beginning My Journey of Self-Exploration, I mentioned that I really haven't explored what my interests are and that I want to change that by trying out some new things.
One of those things was some good ol' DIY projects.
DIY is something that has always appealed to me because not only is it incredibly creative, but it can also save you a lot of money in the long run. Being good at DIY means that rather than buying new furniture, you can modify what you already have and you won't have to worry about hiring anybody to help with the decorating.
Now I wanted to start small because knowing my luck … I would not have a successful first attempt and I didn't want to ruin anything; I wanted something that could be easily fixed if it went wrong.
I have been staying with my boyfriend over the lockdown and his lovely mum, Mairead, had some patio furniture that she was looking to spruce up with a fresh coat of paint. She has a beautiful light blue matching table and chair set, but the paint had started to chip and the metal had started to rust.
Mairead asked me if painting this furniture was something I would be up for doing and I jumped at the opportunity. How badly could I mess up painting really?
Neither of the items needed sanding and they only needed a thin layer of rust-proof spray paint to prep them; it seemed like an easy and fool-proof way to begin discovering if this could be a new hobby.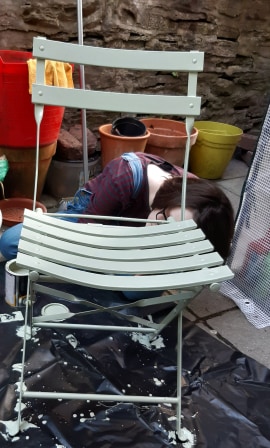 I started with the chair because I figured any mistakes made would be less obvious on the smaller item; if I was going to mess something up then I didn't want it to be the table because that is kind of the focal point. I'm really glad I made that decision because the paint I used was a satin finish and it took a little bit to learn how to work with it effectively.
Overall it was a straight forward job but I really should have realised at the start that a thinner coat would work better. It was already a light blue colour and getting the new colour, a slightly darker green, to fully cover it was not going to be a difficult task but my brain didn't clock that right away.
It looked far smoother when I stopped applying thicker coats and the opacity was still there; learning that when I did meant that the table was a far easier task and it looked a lot better.
I found the experience incredibly cathartic. The couple of hours that I spent out in the sun just painting away brought me a lot of peace and it gave my brain a little bit of break. In those moments I was focused on nothing but the brush and the transformation of the furniture.
This may sound cheesy but I honestly cannot explain the joy that I felt watching the transformation. Watching it go from looking quite rusty and well-loved to looking fresh and basically brand new, was honestly euphoric.
A coat of paint can really give something a completely new lease of life.
A lot of people will probably read this and go "wow, she painted a table and chair. big whoop!" but for me, it was much bigger than that. It had gotten me out of my slump of doing absolutely nothing and gave me a sense of achievement because I had done something.
I had completed something that wasn't a TV show and I could see the difference my actions had made, even if it was only a small one.
I had finally come out of my comfort zone and tried something new but even better than that … I found something new that I can enjoy which has not happened in a very long time.